Despite living in New York City for two years, I never became a big Broadway patron. This isn't to say that I dislike the theater, in fact, I probably still have the ticket stub from when I saw Les Miserables for my 16th birthday; one of my more memorable experiences as a Manhattan resident was a double date in which the four of us saw In the Heights in its off-Broadway run circa Spring 2007. But even as a relative theatrical philistine, I know that there are 525,600 minutes in a year because of the lyrics to "Seasons of Love" from the musical Rent.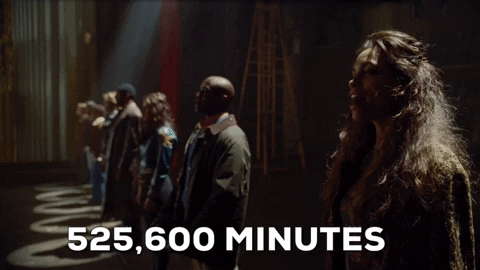 There is not a catchy song invoking 754,560 minutes, which is unfortunate because that is the exact amount of time I spent away from my Vanderbilt office due to the COVID-19 pandemic.
While the pages of Above the Law have been filled with discussion about Biglaw office reopenings, far less digital ink has been spilled discussing the in-office return of those of us sitting on the law school side of legal recruiting. Such a disparity in coverage makes sense as hundreds of millions, if not billions, of dollars are not at stake based on whether I return to my desk, but as I have it, I will use this bit of column space to discuss the issue. August 18 marked my first full day back in the office since Thursday, March 12, 2020. While Vanderbilt wisely continued in-person education throughout the pandemic — unlike many of its peer institutions who offered only remote classes — many staff members worked remotely in the interest of all parties' utmost safety. While I stuck my head back into my building once or twice over those 754,560 minutes, including a couple of times to literally move from one office to another, the vast bulk of my work life was spent at my kitchen table in front of my laptop. That people around the country, both in the legal profession and out, are returning to their offices might indicate to some that the pandemic is over, but its ongoing nature reared its head the night after my in-office return with notification that my two youngest children had a close contact with a COVID-19 positive child and would need to quarantine from daycare for 10 days. Thankfully, everyone is healthy and my in-office return recommenced. A couple of uninterrupted weeks in the office has allowed me a chance to gather my thoughts about the future of the relationship between Career Services and the physical office.
It is important to note that unlike many peer law schools which are bringing staff back to the office full time, Vanderbilt Law has allowed staff to adopt a hybrid in-office policy, which is to say that I am in my office three days a week and working from home for the other two. While this policy is temporary, I hope it becomes permanent because my primary takeaway from my time in pandemic exile is that working from home can be productive for much of society and especially those of us in Career Services. As with most professionals who quickly had to adapt from a completely in-office work life to one that was completely at home when the pandemic first descended on America, there were definitely some kinks that had to be resolved. But IT issues were quickly patched (pardon the pun) and as mentioned before in this space, the students at Vanderbilt Law proved to be remarkably resilient at adapting to the new normal. Face-to-face meetings in my office were replaced by phone calls or Zoom meetings, my children's latest artwork serving as the backdrop for the latter.
The logistics of working from home also proved to be far simpler than office life.  While my commute is typically only eight minutes — excluding taking kids to and from school, which can add an extra hour to the morning —  saving even that bit of time allowed for much greater productivity. My budget for work clothes decreased dramatically and what remained shifted nearly entirely to Homefield. Working in Career Services, as with nearly every profession, has moments of downtime. As part of a family of six, the ability to spend that time, to say nothing of lunch breaks, folding laundry, making beds, or running the dishwasher made the seemingly chaotic hours between the end of the school day and bedtime a touch more manageable.
But as conducive as working from home was to fulfilling my professional and family responsibilities, there is a facet of this job that can only be done in person.  Having resumed in-person student meetings — properly distanced with an air purifier I paid for out of my own pocket — I have come to realize something I felt was true, but had not been able to adequately test: something is lost in translation when only talking through a screen. As I have told the members of the Class of 2023 that I work with on a regular basis, I feel as if I don't know them nearly as well as the classes that preceded them for, except for a select few, I have never met them in person. The wonderful constitutional scholar Pam Karlan tells the story of how during oral arguments for Lawrence v. Texas, a number of former SCOTUS clerks who identified as LGBTQIA+ came to watch the proceedings in court.  When the justices entered the chamber, Sandra Day O'Connor scanned the assembled group and her reactions ranged from surprise to bemusement to befuddlement at the former clerks who had, in that moment, outed themselves to her.
While sexual orientation is not on display when meeting face-to-face with Vanderbilt students, the number of details I have been able to pick up on has been rather remarkable. Over the past several weeks, I find myself saying to no one in particular, I had no idea s/he was so tall/short. But it is not just actual heights that have revealed themselves. Conversations have been much fuller when taking place in the confines of my office. Even the rare contentious interactions from last year have been replaced with something far friendlier as it is difficult to get angry when separated by only six feet. Furthermore, it is not just the tenor of conversations that is different but the fact they are taking place at all. As someone with an open-door policy when it comes to meeting with students, the ability of a student to show up and chat has allowed for more reluctant students to sit down with me and share their concerns and hopes.
Being back in the office has also meant being back on the Vanderbilt campus, which presents a different way to engage with students and colleagues. It is remarkable how much time can be saved finding a student in the halls and having a three-minute conversation rather than engaging in constant emails or scheduling, canceling, and then rescheduling Zoom meetings.
The COVID-19 pandemic has proved impossible to predict over this past year and a half. It is entirely possible that the Epsilon variant will spring forth during the winter and the entire reopening conversation will quickly becomes moot. But while law firms are still deciding when the curtain should rise on their reopening, many of us on the law school side have ventured back onto the stage. While my personal absence was long, and no one would mistake my office for the Great White Way, being in the office now will allow the strong relationship between Career Services and students to develop once again.
---
Nicholas Alexiou is the Director of LL.M. and Alumni Advising as well as the Associate Director of Career Services at Vanderbilt University Law School. He will, hopefully, respond to your emails at abovethelawcso@gmail.com.